On May 13, 2015 Nintendo of America has revealed one of their big plans for this year's e3: the return of the Nintendo World Championships!
Now you're playing with Power!
For those who don't know, in 1990, the Nintendo World Champions was a special nationwide contest that occurred in 30 states in the US. Players competed for the highest score on the Nintendo World Championships 1990 cart which featured the games Super Mario Bros, Rad Racer and Tetris. The finalist won $250 and a trip to Universal Studios Hollywood to compete in the World Finals!
Fun Fact: The gold cart itself is the Holy Grail of NES games and it was given out in a seperate contest featured in, you guessed it, Nintendo Power!
On May 30th, select Best Buy retailers will have qualifying competitions, and on June 14th the event will be streamed live! For more information check out Nintendo's e3 site.
Our only wish is to invite Fred Savage, Luke Edwards, and Jenny Lewis and call it The Wizard 2. Also calling it Nintendo PowerFest 2015 would also be a nice touch. But we can only dream…
For those new to Operation: Power Up, we're a group of dedicated fans persuading Nintendo of America to bring back Nintendo Power as a digital publication and/or a website. With fan publications such as Pure Nintendo, Nintendo Force, there's still a market for a dedicated Nintendo publication. Our mission is simple: we want to get back the Power!
See you next mission!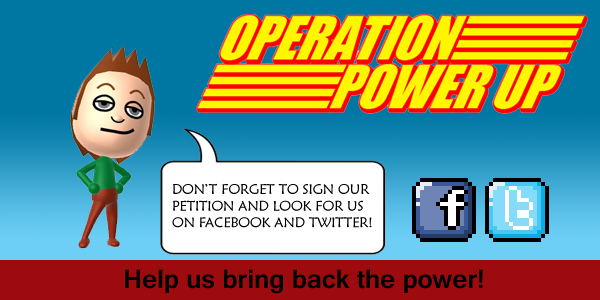 Our Nintendo Network ID: OperationPowerUp
Our Miiverse page: Here.
Our Facebook group: Here.
Our Twitter: Here.
Our Instagram: Here.
Our petition: Here.
Comments
comments